Which spawn idea do you prefer? (survey purposes only)
Ok so basically, there are two fairly different ideas as to what the new spawn should be
(I may be getting some things wrong or may leave some things out)
MasterRobot's idea: Spawn is made up of skyscrapers and each town has their own skyscraper to represent themselves with
Spacekitsch's idea: Spawn is in the form of a medieval village/town to give a warm and inviting feel to it
Now because we have two ideas, and both have their merit, I have come up with a bit of a compromise that with take the best from each idea, and a little from my own thoughts
My idea: There are several main spawn buildings in a medieval theme, with a road leading away from the main building. Along the main road each major town will be assigned its own plot to build something to represent itself with. Each town will have a theme (i.e. medieval, modern city, etc.) and what is built on that town's spawn plot will take that form. I think the inconsistancy of the plots will actually help each individual town stand out, so long as there is not only one town that has a different theme than the rest (a skyscraper among castles). I have built a small, rather ugly mock-up to illustrate this.

[img]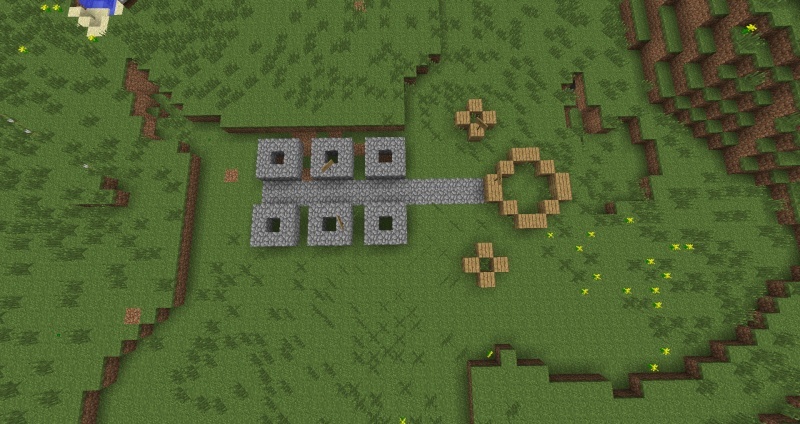 [/img]
On the right are the spawn buildings, and on the left is road leading out of spawn with the town plots along it.
I think this idea combines the warm and inviting feel of Space's medieval town, and Master's town representation idea.
Last edited by SPWeber on Tue Jun 04, 2013 8:31 pm; edited 1 time in total



Posts

: 125


Join date

: 2013-01-31


Location

: Nebraska, USA



Also too, there are many other ways the spawn can be built so new ideas are welcome.
Admin




Posts

: 313


Join date

: 2013-01-30


Location

: USA



Im with Space all the way!! i LOVE LOVE LOVE LOVE LOVE Medieval towns!!!!!!!!! i have sooooo many medieval towns on other servers and i mainly go for medieval servers. if we do medieval style im spaces biggest help!! trust me




Posts

: 56


Join date

: 2013-02-05




---
Permissions in this forum:
You
cannot
reply to topics in this forum