Okay everyone so we just had a very special visitor on the server; the owner of the REAL ECONICRAFT!
I'll let the screenshots speak for themselves...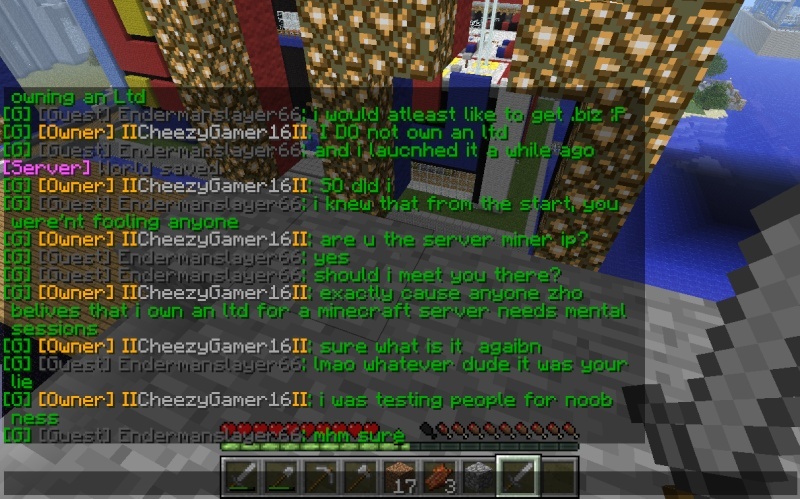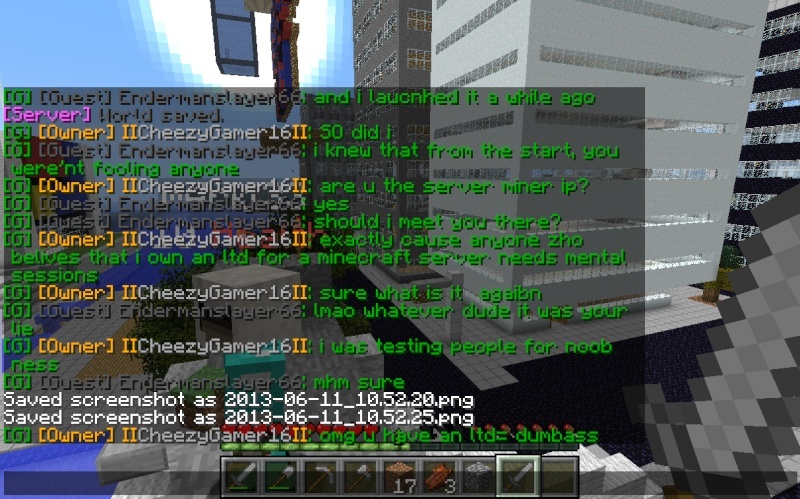 His website:
http://econicraft.net/index.php?portal/
Real Econicraft IP:
198.245.49.24:25568
Boom denied!! And my skyscraper would put his to shame his look like shit.
Masterrobot wrote:Boom denied!! And my skyscraper would put his to shame his look like shit.
I know right?
"LEHTS MAEK A SKISCAPER OUT UF DIMENDS END GLASS!"
Went on this server to check it out, and was shocked. Spawn was shit, and the spawn city was not well put together, Not to mention the fact that mobs spawned there, and an admin kept spawning crazy shit to kill the noobs....

Will post pictures later or tomorrow. It was terrible .





Posts

: 112


Join date

: 2013-01-30


Age

: 27


Location

: Kentucky



I, too visited the land of "real econicraft."  If you could think of every apocalypse movie wrapped into one it wuld not even begin to describe the desolation of the place.  First off, there were no friendly greetings.  There was no one on period.  Secondly, the amount of stuff was incredible.  The amount of pure crap that it was was also incredible; 100%.  This is the epitome of "do not build this."  It looked like a child glued a material and glass together and called it a skyscraper.  This wasn't just their spawn either.  The whole server was literally a massive city.  At the end was a bedrock wall.  Which would actually make a great movie of a guy and an apocalypse thing. 
Because....during my travels:  There were no rules, no directions.  Just a man and his mission to find some sign of life.  Then I came across my first signs of life.  In the form of griefing.  The problem was that there was so much stuff that the griefers would actually have to spend a lot of time and effort.  It just really wasn't worth it to grief this, trust me.  Then, because WG was turned off there were so many mobs.  I only had my trusty stone sword to keep me safe.  At only 1 heart of life left I found a boat which took to a place with chests with food and a diamond sword.  Then I further fended off mobs  and found a mostly finished stadium with snow on the ground.  Creepy.  Then I found an unused tarmac.  Also very creepy.  Then I found the bedrock wall and all sense of hope and inspiration faded away with the sudden realization that I could not pass through it.  Then I realized I was hungry and made a sandwich.
Anyway, in the process I found a year old server called Econicraft.  This server, to my knowledge predates both this server and his.  It was shut down, though.  I haven't talked to any of the people on it but I might try to track a few down.  Does anyone know about this server? 
https://www.youtube.com/watch?v=bvbpp_FZFeo 
Also:
https://www.youtube.com/watch?v=UxCUqAduiBY
Also, now I know why everyone was so oddly neutral about the skyscrapers.


Similar topics
---
Permissions in this forum:
You
cannot
reply to topics in this forum